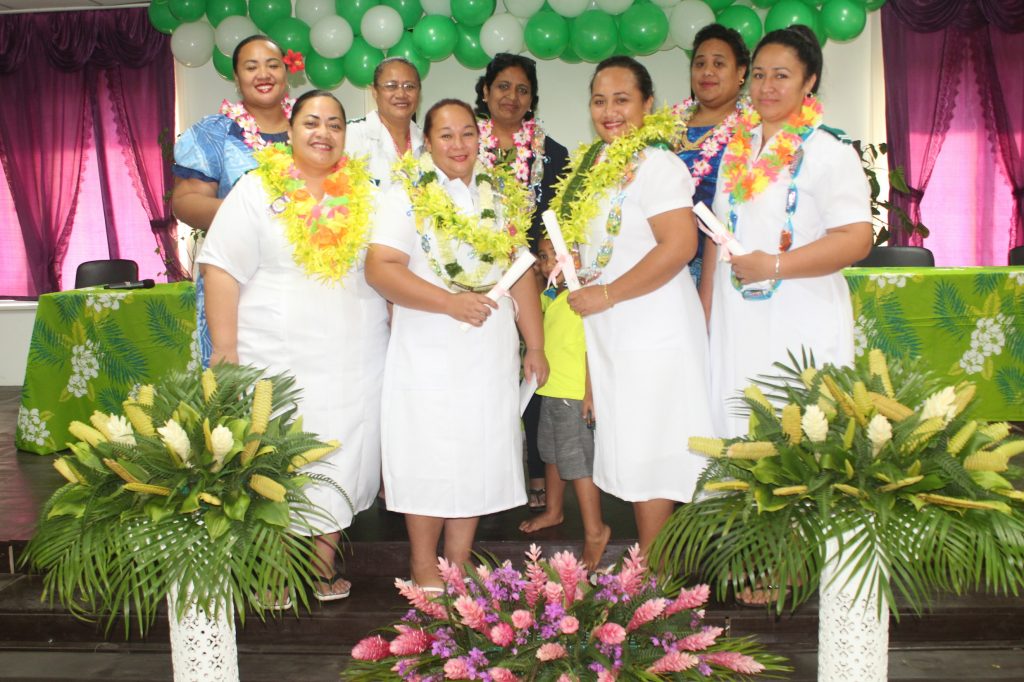 Back Row: Dr. Litara Esera (Paediatric Registra) Telesia Lafaele (Nurse Manager) Dr. Kirti Dalbanjan (Local Course Co-ordinator) Natasha Mamea (Acting Principal Nurse)
Front Row: Doris Pupuali'i, Camilla Ah Hoy, Filipina Kaisa, Gauula Tone (Graduate Registered Nurses)
Speech by : Local Course- Co ordinator (Dr.Kirti Dalbanjan)
Talofa lava and welcome to the Certificate award ceremony of our Second successful batch of the Sydney Child Health Program of Sydney University. It gives me immense pleasure and feel proud to announce that all 4 Registered Nurses have completed this course successfully with good scores. Today I would like to introduce and tell shortly about this program.
Vision – Healthier Children Globally.
Mission – To empower the Health care professionals treating children and young people globally with best practice in Pediatrics.
History – The program began at the Royal Alexandra Hospital for Children, Sydney in 1992 with 24 Drs who were the residents and local GPs. It was then co-awarded by RAHC and the Post Graduate committee in Medicine of the Sydney University and it was known as Diploma in Child Health(DCH).
Gradually DCH expanded to ACT in 1996 then to rural areas of NSW and subsequently to all other states of Australia following the requests from GPs and other doctors wanting to enhance their knowledge, confidence and skills in caring children and young people.
The International program began as DCH (Sydney) in Hong Kong in 2005 , where the role of the Local Pediatricians as tutors providing regional contextualization emerged. This was the catalyst for broader establishment especially to include developing countries. To date more than 7250 have successfully completed this program.
Interdisciplinary learning emerged in 2008 when the first nurse successfully completed the program and since then more than 180 nurses from a variety of Australian and International locations have completed the
"International Post Graduate Pediatric Nurse Certificate".
The name IPPC was introduced in 2009 to distinguish it from the program with similar titles in India in Specialist qualifications.
Today almost 17 countries across the globe including Australia are participating in this Distance Learning mode Education.
Few words about this program in Samoa –
Dr. Kathryn Currow visited first in 2012 to introduce this program but nothing much happened. The Fiji USP option for post graduate studies was available earlier which was closed. Therefore a need had arisen about something that can be done locally. There were some drs. who really wanted to do post graduate studies but had big family commitment.
We informed Dr. Kathryn about the big amount of tuition fees which is unaffordable to the small nation like us. She graciously agreed to help and the university gave a huge discount.
That's where Afioga Palanitina came as a rescuer. She had a big foresight and always positive outlook in supporting people who try to learn some new skills and being useful to our country Samoa. She not only supported but followed diligently about the progress of this course in terms of enrollment, payment of tuition fees etc. etc. The result is obvious, Ulugia Dr. Tito Kamu and Register Nurse Talisuaga Lameko already completed their course successfully in December 2018 and now the second batch of 4 Registered Nurses namely Gauula Tone, Doris Pupualii, Filipina Kaisa and Camilla Ah Hoy joins them.
I on behalf of all our students of this program are very grateful to you Ma'm! Faafetai tele lava Afioga!
I wish all the best to all our candidates and I am sure with this new up-gradation in their knowledge they will serve the Children of Samoa more efficiently! Don't stop here; continue practicing your new skills. Soar high the Sky is yours!!
Fa'afetai Tele Lava!